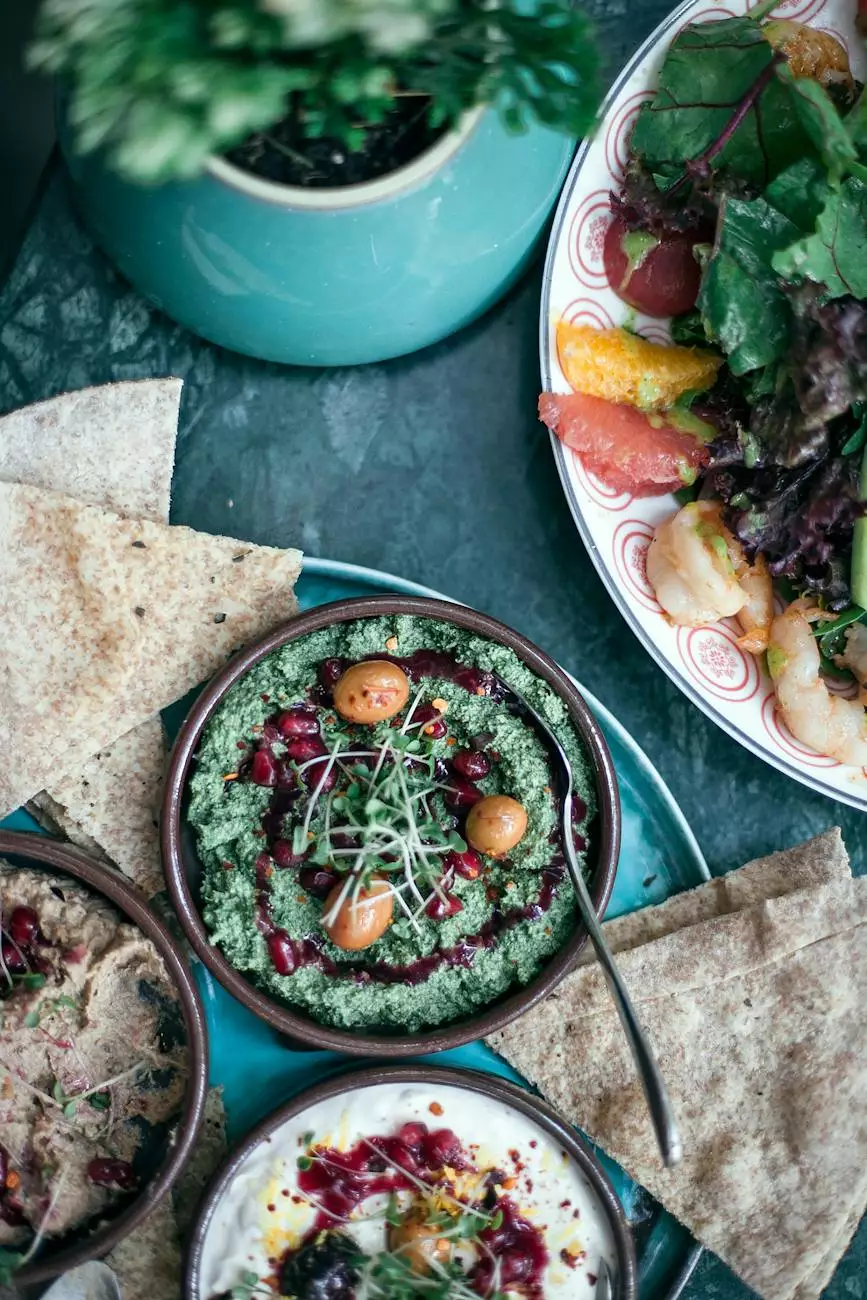 The Perfect Combination of Freshness and Flavor
Are you craving a hearty yet refreshing salad that tantalizes your taste buds and satisfies your hunger? Look no further than our sensational Spinach Salad with Pancetta Vinaigrette. This delightful dish combines the freshness of spinach, the richness of pancetta, and the tanginess of vinaigrette to create a culinary masterpiece.
A Healthy Twist to Your Meal
In this fast-paced world, it's crucial to prioritize our health and make conscious choices when it comes to our diet. With our Spinach Salad with Pancetta Vinaigrette, you can enjoy a nutritious meal that doesn't compromise on taste. Spinach, known for its high nutritional value, is packed with vitamins and minerals that promote overall wellness. It's a leafy green powerhouse that aids in digestion, strengthens the immune system, and supports healthy skin.
Tantalizing Pancetta Vinaigrette
No salad is complete without a delectable dressing, and our Pancetta Vinaigrette takes it to a whole new level. Pancetta, an Italian bacon made from pork belly, brings a deliciously smoky and savory taste to the table. Combine it with tangy vinaigrette made from a blend of olive oil, Dijon mustard, balsamic vinegar, and a hint of honey, and you've got a dressing that elevates your salad experience to new heights.
Fresh and Flavorful Ingredients
Every great salad starts with quality ingredients, and our Spinach Salad with Pancetta Vinaigrette is no exception. We carefully select the finest, freshest ingredients to ensure an exceptional dining experience. Our spinach is crisp, vibrant, and bursting with flavor. The pancetta is expertly cured, providing just the right amount of richness. Paired with juicy cherry tomatoes, creamy goat cheese, and crunchy toasted pine nuts, every bite is a symphony of taste and texture.
Simple Preparation for Uncompromising Taste
Preparing our Spinach Salad with Pancetta Vinaigrette is a breeze. With just a few simple steps, you'll have a sensational salad ready to impress.
Ingredients:
4 cups of fresh spinach
1/4 cup pancetta, diced
1/4 cup cherry tomatoes, halved
2 tablespoons goat cheese, crumbled
2 tablespoons pine nuts, toasted
2 tablespoons olive oil
1 tablespoon balsamic vinegar
1 teaspoon Dijon mustard
1/2 teaspoon honey
Salt and pepper to taste
Instructions:
In a small skillet, cook the diced pancetta over medium heat until crispy. Set aside.
In a large bowl, combine the fresh spinach, cherry tomatoes, goat cheese, and toasted pine nuts.
In a separate bowl, whisk together the olive oil, balsamic vinegar, Dijon mustard, honey, salt, and pepper to make the vinaigrette.
Pour the pancetta vinaigrette over the spinach salad and toss gently to coat.
Serve immediately and enjoy the perfect combination of flavors.
Join the Salad Revolution
Our Spinach Salad with Pancetta Vinaigrette is more than just a meal; it's a testament to a healthy and vibrant lifestyle. Indulge in this exquisite creation and experience the harmony of fresh ingredients, tantalizing flavors, and wholesome nutrition. Join the salad revolution and let your taste buds dance with joy!
Why Choose Us?
When it comes to creating extraordinary dishes, our expertise and dedication set us apart from the competition. Our commitment to quality, innovation, and customer satisfaction make us the go-to choice for salad enthusiasts. We strive to deliver the best possible dining experience, ensuring that each bite is a moment of pure culinary bliss.
Indulge in the Finest Spinach Salad
Don't settle for ordinary salads when you can have extraordinary ones. Treat yourself to the finest Spinach Salad with Pancetta Vinaigrette and elevate your dining experience to new heights. Join us on this sumptuous journey and discover the perfect balance of freshness, flavor, and nutrition. It's time to indulge in a salad crafted with passion and expertise.